Cormac and Mia playing at the Irish Arts Center
Traditional vs Modern- Irish Harp Master Class
The ultimate touring musician's nightmare-flying in over the Atlantic and your instrument is lost in transit! Cormac de Barra who is from a long line of Irish harpist had just this experience. Luckily he found local NYer Mia who lent him her CAMAC electro for his gig that night.
This Master's Class is a result of conversations between Cormac who plays with Moya Brennan (the voice of Clannad) and teaches at the renowned Irish festival and school Cairde na Cruite and CALARTS alumni Mia's work arranging harp for rock and avant-garde audiences.
Students will spend time with each instructor. Cormac will help students learn by ear and tailor the workshop to suit their interests by exploring dance tunes, harpers' airs, slow airs and song airs. Mia will explore rhythm patterns, extended tech and practice tips to give a clean performance. All skill levels welcome!
At 7 pm a concert featuring electric and acoustic harp duos with Cormac and Mia.
Even if you do not take the class, you can enjoy the beautiful sounds of the harp at the evening performance!
Sun Oct 23rd, Master Class from 2-5:30, Performance 7-8 pm: Workshop- $50 general / $45 members, students, seniors Concert-$18
Irish Arts Center
553 West 51st Street
New York, NY 10019
212-757-3318
*includes performance admission
Full bios of each artist and hi resolution images available for more info on the artists:
http://www.cormacdebarra.com

For more info email harpgrrl@gmail.com
Cormac playing and talking about Carolan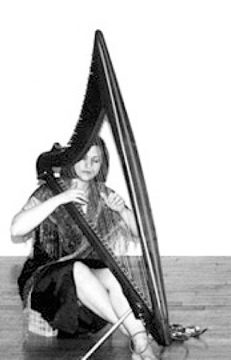 Tags: being at the middle, celtic harp, clannad, dervish, healing harp, irish harp, masterclass, sommerset harp